Measuring a box is as easy as 1-2-3.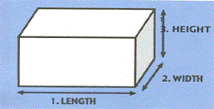 Simply measure the length, width, and height of what you would like to pack and express the measurements.  Make sure to give the measurements in this order:
1.  Length
2.  Width
3.  Height
Allow a minimum of 1/8" extra to each dimension for the fitting.  Be sure that the length and width do correspond to the opening of the box.